Final discourse of the site
This is the last file of our site. We have try to get you to know and appreciate Rome, and the Roman people; this link allow you to download an ideal touristic programme for a week in Rome, with many suggestions and practical advice, including a relaxing tour on foot to help you to understand deeply this city.
Some final advice: come to Rome not only to know and visit it , but to feel it…. and live it!
It isn't enough to walk down the streets visiting in an hurry a monument after another. You have to enjoy Rome in its details, looking all, because, every alley, every single street, hides some history, art and culture.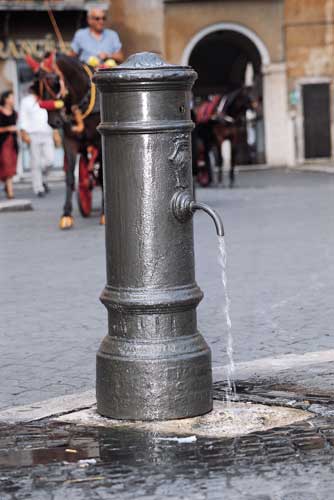 Glance up, and you will see wonderful ceilings, secular staircases, the fountains (named nasoni), elegant courtyards, street lamps and marble inscriptions on the walls, palaces of different styles and materials, but always of ancient times, and when you will do it, think that that same street was covered by emperors, generals and popes many times ago.
In this architectural casbah, we find the Romans, communicative and playful population. They like laughing, and maybe among them, you will find descendants of nobles, and artisans of many times ago, or artists of ancient professions, handed on from father to son.
Sit down before a table in the town centre or in one of the surrounding districts and you will see views which look like postcards, characteristic characters….. talk to them, you won't regret it!
Don't run then, maybe go back, and try to understand Rome and why the Romans love it !… "During the hot summer evenings the Romans, go round their city, eating a "gratta checca" or a slice of cold watermelon, in the alleys of their history, having a special relation….. a faith!"
ATTENTION
Rome is a metropolis with about 4 million inhabitants. It is visited by thousands of tourists every year, with peaks of presences during the week-ends and the holydays. Like all the capitals in the world also in Rome you can meet more or less reliable people .
Some useful suggestions and advice to unpleasant surprises :
Pay always attention to your wallet in the undergrounds and buses, !!

Don't rely on Tourism Guides who haven't any licence (identification card with photo) and not official Taxis .

Change money only at the specific change offices or banks.

Don't think to make a bargain, buying antiques in the streets , or in not-certified places.

No games of chance in the streets ( for example in the Sunday market of Portaportese).

Always check in advance prices, change, in restaurants, bars, etc. .

Pay attention to wares exchanges (telephones, radios) proposed in the streets.

Remember that the prices of drinks and sandwiches in the stalls, city centre and in the places wher

e the number of tourists is greater , are very high, (there are many supermarkets everywhere - see link ………).

Don't go to deserted places and with no lighting, and , above all if you have drunk too much alcohol.

Danger of brawls , in the areas where there are many pubs, bars, and discos. Don't accept any challenges.

Avoid Rom women, who propose you reading the future on the palm of your hands , often there are some accomplices in the surroundings.

Pay attention when you cross the streets even if you are on the zebra crossing..