Optical effects
St. Peter's Dome seen from Via Piccolomini
The progress of St. Peter's Basilica, made on a Latin cross plan differing from the original design of a Greek cross, has dismissed the optic prospect of the dome, no longer visible at close range. You can work out this inconvenience reaching, after a walk in Villa Pamphili, Via Piccolomini where there is a feeling, thanks to a particular visual effect, to stand in front of Michelangelo's dome, which appears to us down the road.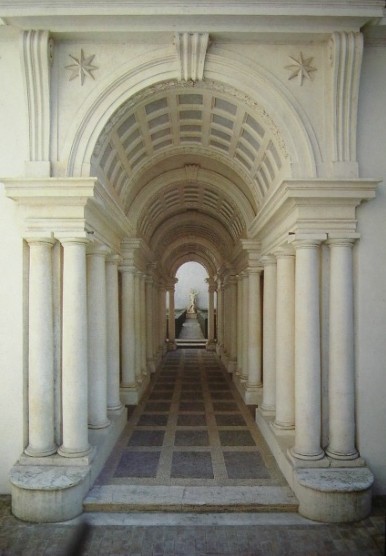 Borromini's perspective gallery Palazzo Spada
The peculiar work of art of Palazzo Spada is the Prospect Gallery that Borromini created in the years 1652-1653. And this is something quite special. In fact, the architect, in the effective area of about 8 feet, managed to create an environment that appears to visitors much deeper.
St. Ignatius' fake dome
The Church of St. Ignatius is a baroque church with the characteristic of having a fake dome. Instead of the true dome, never built, there is a painting on the a ceiling which simulates the depth and the light of a dome.
Th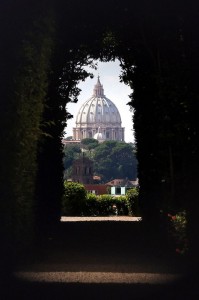 e Palace of Knights of Malta
In the square of the Knights of Malta, in the Aventino district of Rome, there is a doorway. Is the one of the Palace of the Knights of Malta: looking through the keyhole you can have a fantastic and unique vision: the St. Peter's Dome.
A breath-taking sight. There are those who say that the door of this building has been designed right there
to have this particular 'optical effect'. The vegetation that frames the 'picture' representing St. Peter has also been studied "ad hoc".
The queue is always there, except perhaps in the chilly evenings. There are tourists and citizens who come to admire, from this point 'er Cuppolone' in a perfect perspective.
Original projects