名胜信息
气候
罗马拥有典型的地中海气候,温和的温带。罗马在夏天特别热,有相当潮湿的夜晚。在冬季罗马的特点是凉爽干燥,但天凉很少,主要集中十二月和一月,(很少下雪罗马微薄的降雨通常集中在十一月和二月的月间。最好的时间参观城市是春秋时白天变长,由于夏令时的实时新闻,请访问:http://www.ilmeteo.it/meteo/Roma
地图
罗马地图通常可以得到各地市旅游信息点。但是,你仍然可以打印下面的地图。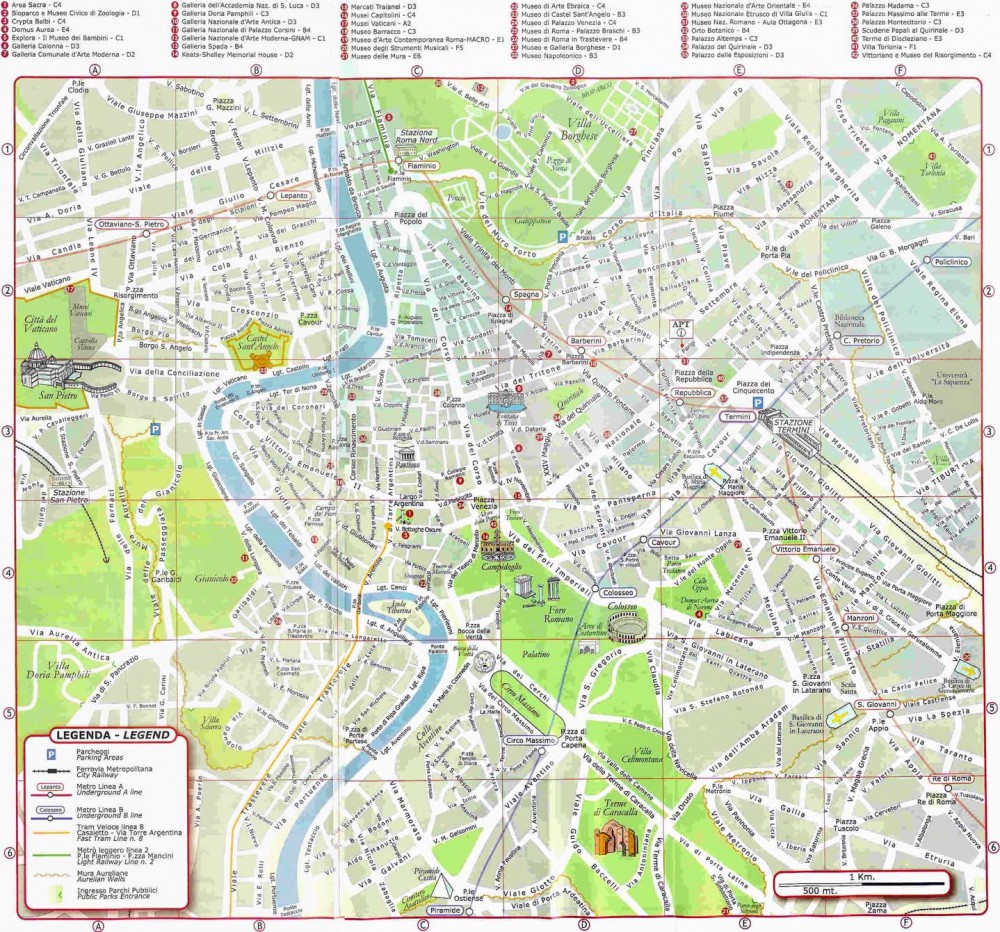 对于交通地图和罗马地铁访问:http://www.atac.roma.it/page.asp?p=18
旅游信息点
他们是意大利和外国游客中心谁访问罗马城
- 特米尼PIT,条款火车站 - 通过乔瓦尼·乔利蒂34,建筑内部的F - 24的平台,从8.00到19.30
- 莱奥帕尔迪PIT,旅游部门在罗马市,通过莱奥帕尔迪24,周一至周五上午9:30至19.00
- 国民PIT,国民通过大街(展览中心),从9.30到19.00
- 分耿您PIT, 马科·明格蒂街(课程通过大街的拐角处),从9.30到19.00
-罗马论坛PIT - 在罗马帝国广场大道的论坛,从9.30到19.00
- 纳沃纳PIT,广场阿尔五弓形(纳沃纳),从9.30到19.00
- 天使城堡PIT,台伯梵(广场PIA),从9.30到19.00
- 提不让停啊的PIT, 在提不让停啊站,从9.30到19.00 – 即将开业
-钱皮诺PIT, 在钱皮诺霸上锡机场 – 国际到达海关区域/行李,从9.00到18.30
- 菲乌米奇诺达芬奇机场PIT - 国际到达T3航站楼,从8.00到19.30
- 奥斯蒂亚丽都PIT, 在保罗·托斯卡内利海滨角落广场安科马兹奥,从五月至九月从9.30到19.00
Contact center 联系中心
060608,致力于罗马市的一些旅游和文化信息.
紧急电话号码
急救:118
警方:113
警方:112
财政警察:117
Information for Tourists
Climate
Rome has a typical Mediterranean climate, mild and temperate. Rome in summer is particularly hot, with humid nights.
In winter, Rome is characterized by a dry cold, but cold days are few and are mainly concentrated between December and January, rarely snows in Rome.
Rainfall are generally concentrated in the months of November and February.

The best times to visit the city are spring and autumn, when the days are longer, thanks to summer time.
Map
You can generally get a map of Rome in the tourist information points around the city.

But you can still print the map below.
For the transport map and Metro Rome visit: http://www.atac.roma.it/page.asp?p=18
Tourist Information Points (PIT)

They are the centers of welcome for the tourists who visit the city of Rome

PIT - Termini Stazione Termini - Via Giovanni Giolitti 34, Interior Building F - platform 24, from 8.00 to 19.30

PIT - Leopardi, the Tourism Department at the City of Rome, Via Leopardi 24, from Monday to Friday from 9.30 am to 19.00

PIT - National, Via Nazionale (Exhibition Palace), from 9.30 to 19.00

PIT - Minghetti, Via Marco Minghetti (corner of Via del Corso), from 9.30 to 19.00

PIT - The Forum of Rome, Via dei Fori Imperiali, from 9.30 to 19.00

PIT - Navona, Piazza delle Cinque Lune (Piazza Navona), from 9.30 to 19.00

PIT - Castel Sant'Angelo, Vatican Tiber (Piazza Pia), from 9.30 to 19.00

PIT - Tiburtina Station Tiburtina, from 9.30 to 19.00 - OPENING SOON

PIT - Ciampino Airport G.B. Pastries - International Arrivals area, customs / baggage claim, from 9.00 to 18.30

PIT - Fiumicino Leonardo Da Vinci Airport - International Arrivals Terminal T3, from 8.00 to 19.30

PIT - Ostia Lido Lungomare Paolo Toscanelli corner Piazza Anco Marzio, from May to September from 9.30 to 19.00

Contact center

060608, the number of the Municipality of Rome dedicated to information and cultural tourism.
Emergency numbers

First Aid: 118

Police: 113
Police: 112

Guardia di Finanza: 117
Fire brigade: 115
Policemen: 0667691
Removing Auto: deposit Farnesina - tel. 06 33220527
deposit Coachmen - tel. 06 5411639
deposit Ostia Antica - tel. 06 5650972
deposit G.B. Valente - tel. 06 25209642

Thefts

In case of theft of cash or credit cards you need to immediately block the card by calling:

• ATM: tel. 800822056
• Cartasì (Visa Mastercard): tel. 800151616
• Bank Americard (Visa Mastercard): tel. 800821001
• American Express: tel. 0672282
• Cariplo Paper Money (Mastercard Visa): tel. 800825099
• Diner's Club: tel. 800864064