The faith of the Stadio OLIMPICO
Rome is a city perfectly fit for sport, in all its disciplines, because it is equipped with various kinds of gyms, moreover the competitive and non-professional level is notably high.
We achieved excellent results, in basketball (with the Sports Arena in the Eur area), in rugby (with the Stadio Flaminio) and even baseball ..... however there is no comparison among these sports and football!
In Rome every neighbourhood has at least a football field and the youth sector is one of the most successful in Italy ....... here football is alive!
There is no other city in Italy with such a high number of private television and radio stations talking about football, in every café of the whole city the discussions revolve around football. In Rome people talk about the derby (AS . Roma and SS.Lazio) ..... until the next match.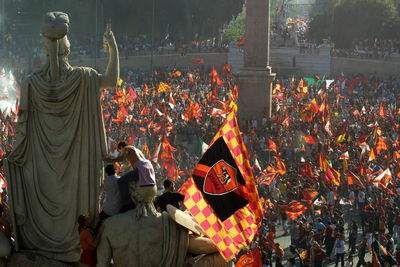 Whatever excitement there is for football, in Rome there is even more! Here ...... everything is possible!
In the name of football, the city gets paralysed, urban turmoil and streets full of colours in the whole city are typical features of the football fans in Rome.
Even the quiet and respectable people, when they wear the scarf of their team and enter the Stadio Olimpico, share their faith .... and suddenly become "hooligans" ready to sing out their hymns! and point their thumb, just as the Roman emperors used to do in the Colosseum.
In Rome, this exaltation reached its peak with the death of Vincenzo Paparelli (28/10/1979), who was hit by a rocket fired by the opposing supporters, a tragic event that has never happened in the other stadiums of the world.
But the Roman people do not include only exalted supporters, the majority of the fans show their support in a civilised manner, even bringing their children to witness the spectacle of the Stadio Olimpico, using humour and imagination against the rivals, waving their flags and writing funny banners!
During the derbies the scenography is as good as those of the other stadiums, it looks like the Maracanã Stadium in Rio de Janeiro, full of flags and chants accompanying the match!
The football faith is handed down from father to son and it is almost a shame to have an opposing supporter among the family members!
At the end, the most important thing in all this chaos is always and only cry......... GO ROMA!